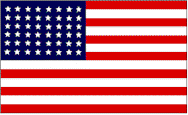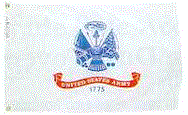 Headquarters
Army Ground Forces
Association
---
Events
Living History at Fort DeSoto September 2, 2001
---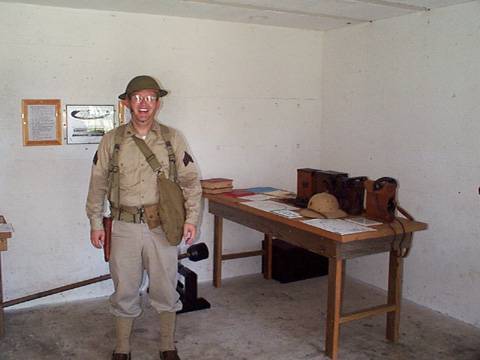 AGFA member Andy Bennett participated in a Coast Artillery Living History event at Fort DeSoto over the Labor Day weekend. The event was sponsored by Venture Crew 976. Venturing is a youth development program of the Boy Scouts of America for young men and women who are 14 (and have completed the eighth grade) through 20 years of age. The main area of interest for Venture Crew 976 is interpreting Coast Artillery history for the public. All pictures are courtesy of crew committee chairman Kevin Mello.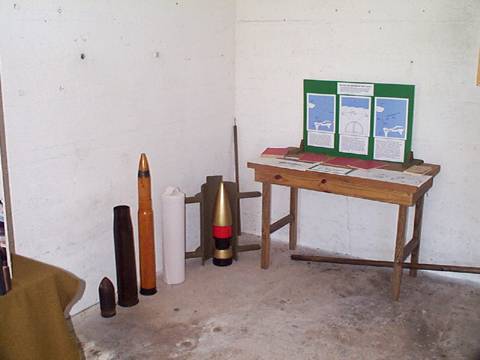 Two display areas were used for the event. In the plotting room of Battery Laidley, a display on plotting prepared by the Venture Crew introduced the public to the concept of aiming the mortars of Battery Laidley. Equipment used for loading a 6-inch seacost gun was also on display, including a rammer, dummy powerder bag, and dummy practice projectile. Other munitions included a dummy 3-inch round, and a 90mm case and projectile. Communications equipment on display including a range of field phones used by the Coast Artillery, including the WW1 era EE-3B, the 1920's era EE-5, and the WW2 era EE-8. A WW2 era BD-72 swtichboard was also on display. There was also an excellent display of Coast Artillery unit distinctive insignia and patches.




Venture Crew members and leaders were dressed in uniforms from several different eras of the coast artillery, ranging the early 1900's to early WW2. Here they are demonstrating the use of the M1910A1 azimuth instrument by tracking passing ships with its powerful telescope. The Venture Crew prepared an excellent event that was well received by the many members of the public who visited during the day.

---


Copyright 2000. All rights reserved.