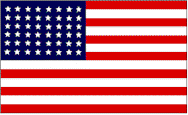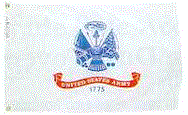 Headquarters
Army Ground Forces
Association
---
Events
Living History at Fort DeSoto January 18, 2003
---

AGFA members Andy Bennett and Shawn Welch participated in a Coast Artillery Living History event at Fort DeSoto January 18, 2003. The event was sponsored by Venture Crew 976. Venturing is a youth development program of the Boy Scouts of America for young men and women who are 14 (and have completed the eighth grade) through 20 years of age. The main area of interest for Venture Crew 976 is interpreting Coast Artillery history for the public.
Three display areas were used for the event. In one of the magazines of Battery Laidley, there were displays of communications equipment, small arms, rounds ranging from 3-inch to 16-inch (dummy), and fire direction equipment. A second location was at one of the 6-inch guns from Fort Dade, now mounted outside Battery Laidley, where Venture Crew Members with the assistance of Bob Carr demonstrated loading drills on the 6-inch gun, and performed blank firings with a range of small arms. A third display area was located on top of Battery Laidley. This display demonstrated the communications and fire control equipment found in a typical fire control station. Displays conducted were representative of the 1941 era.
---
---
Photos courtesy Shawn Welch and Kevin Mello.


---

Copyright 2011. All rights reserved.